I can't believe how long it's been since I've posted anything! There's been no lack of creating over here, just a lack of a functional computer! I guess my four year old laptop decided to revolt against the 15,000 photos I shoved into every nook and cranny of its memory. Sorry little guy. It's okay though because now we have a shiny new computer!
So in preparation for Thanksgiving and Christmas, both of which we hosted, I decided to complete a few projects that would help fill up our blank walls! This is one of my favorite projects I've ever seen done (I originally saw it
here
), and now that I've done it I'm trying to refrain from putting them all over my house!! EASIEST PROJECT EVER!
Supplies:
- 2x4 thin plywood (cut in half by the nice people at Home Depot)
- Black paint (I used acrylic craft paint)
- Cute photos of kids printed 12x12 (I had mine printed at Costco)
- Double-sided tape
- Sawtooth hanger and glue
The first thing I did was to have a little photo session with my girls. I hung up a white tablecloth on the wall (I just taped it up) and had them make cute faces while I snapped dozens of pictures. I picked out the four pictures I liked the best of each girl and had them printed 12x12 at Costco. I think each one was $2.99. I chose this route because they were automatically the right size and I was kind of in a hurry! I bought my plywood board at Home Depot, had them cut it, and painted all of the edges black. To hang them, I used E6000 to glue a sawtooth hanger onto the back of each one. I decided to attach the photos with double sided tape because these are hung in a high kid traffic area and if one of the photos gets ruined it will be easy to peel it off and replace it! The hardest part was probably hanging them evenly. These photo strips are hung on the wall of the landing that leads to our basement, so the lighting is terrible (hence the dining room shot above)! Those walls are actually kind of gray if you can believe it. :)
I'm wondering how many of these I can get away with having around the house without it looking too weird... :)
***UPDATE: These have been up for 6 months and the double sided tape is still holding strong! I love that it stays up so well but that I can still easily remove a picture and replace it if I need to, or remove them all for a complete update and not have to get new plywood! I used Scotch brand if that helps, and I'm not being paid to say this. ;)***
Linking up to...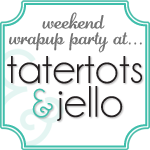 Bloom Designs