Part of the reason I love DIY is because I can personalize my decor. When it came time to buy a doormat for our front door, I really wanted one with our last initial. Of course Pottery Barn sells them for $60, but I thought, how hard can it be?? I found many tutorials online, but I liked the look of
this one
from Random Thoughts of a Supermom.
This project was pre-Silhouette, so to make the stencil I printed a W onto card stock and cut it out. I taped the stencil to the corner of the doormat, and used black acrylic paint and a stencil paint brush to dab the paint on. The doormat was from World Market. Here it is with my
spring wreath
.
I love the simplicity of it. These photos show the doormat after 6 months of use, so you can see that it looks as good as new! Because our porch is covered, the doormat hasn't gotten wet, and placing the monogram off center also helps keep shoes from wearing it away. I think spray paint would be a good option if you needed it to be more weatherproof.
Personalized decor is the best, and it's even better when you can do it yourself!
Linking up to...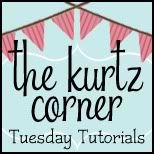 &
lt
;center>&
lt
;a
href
="http://www.
uncommondesignsonline
.com/">&
lt
;
img
border="0"
src
="http://i1140.
photobucket
.com/albums/n575/
beuncommon
/
UncommonlyYoursLinkParty
.
jpg
"/>&
lt
;/a>&
lt
;/center>